This is a Sponsored post written by me on behalf of The Parking Spot for SocialSpark. All opinions are 100% mine.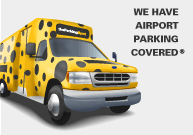 Many people enjoy traveling to visit and see other people, places and things that are not close to home. This could be a family vacation or for business. I absolutely love to travel but one of the worst experiences with traveling is getting to and from the airport, and finding that perfect parking space.
Because of this many times I have almost missed a flight because I could not find a parking spot and when I finally found one, I was running while trying to lug a 50 pound luggage bag. Can you relate? Getting to your destination is fun but the work involved in getting on the plane on the way to your destination is a lot of work.

Most major cities have multiple options for airport parking.  If you are fortunate enough to live near one of the 22 airports with The Parking Spot, life may have just gotten brighter. The Parking Spot is more than simply a place to park your car. Their main focus is on hospitality, to make is easier, more comfortable, and more affordable to get a superior airport parking experience. They make airport parking reservations very easy. Unfortunately the nearest one to me is located in Chicago, IL at Ohare International, but that is ok because I used that airport regularly.

You could park your car in any old parking lot.  But, why not choose one that offers a ton of amenities to make near-airport parking more enjoyable.
Friendly shuttles every 5-7 minutes
Covered, open-air and valet parking available (select locations)
Always open
Fast and easy check-in & check-out
Well lit, fully-fenced
Luggage assistance available
Complimentary chilled water
Complimentary USA Today until 9am, Monday-Friday
Airport parking reservations available
Car care services, including car washes and oil changes available in some markets
They also have this program called the Spot Club were you can get free parking. It works very simple, for every seven days you park you get one day free. Really it is very simple, you just join their membership for free. This always you to earn points for every day you park. These points are redeemable for free parking which are good for up to thirty days. For mor information please visit the Spot Club here.
The Parking Spot is always open, provides friendly shuttles every 5-7 minutes, allows for fast and easy check in and checkout, is well lit and allows for traveling to be seamless. Airport parking reservations are available and they even offer car washes/oil changes in some markets. So why not make your next traveling experience an enjoyable one by visiting The Parking Spot for more information today.

The Parking Spot is also available on Facebook and Twitter @TheParkingSpot. I followed them to stay up to date with all their specials and you can too.