This is a Sponsored post written by me on behalf of
GFI
for
SocialSpark
. All opinions are 100% mine.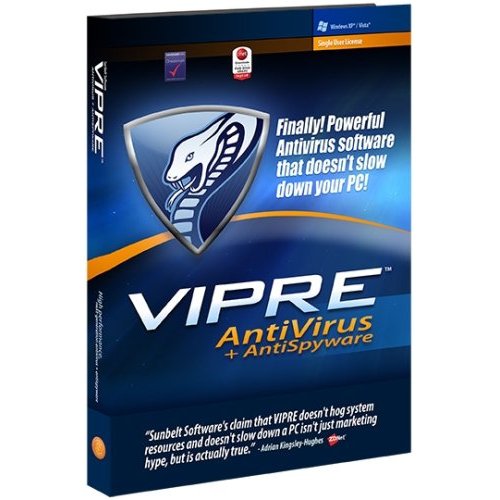 Recently I began looking around all the latest antivirus programs available. This I have been doing because my current protection is about to expire and I have not been completely satisfied with my current protection. While researching this I have seen many reviews about the fairly new software called VIPRE Antivirus Protection where almost everyone say the same thing.
Everyone says that the software is simple to install, this does not take a lot of space on your hard drive and does a very good job at protecting your PC from viruses and other hackers on the internet. So I decided to give the VIPRE Antivirus software a try and have been using it for approximately a week. What I have found is that it not only protects my PC, it also allows it to run faster and eliminates the sluggishness I was having. This is something most of the other antivirus protection software programs struggle with.
VIPRE Antivirus software also includes a built in firewall to help keep your PC safe while on the internet at home, in the office or when you are traveling. I have found the VIPRE Antivirus software created by GFI to be excellent in keeping my computer safe and protected using the latest technology. It is also the antivirus software that IT technical support people are using, so it must have something above the other antivirus programs on the market today. Here are a few of the reasons I decided to give the VIPRE Antivirus software a try.
VIPRE detects and remediates viruses, spyware, rootkits, bots, Trojans and other malware via a single, powerful anti-malware engine.
VIPRE utilizes an advanced technology stack to scan large volumes of information quickly, with minimal performance impact.
VIPRE finds and disables malicious hidden processes, threats, modules, services, files and alternate data streams (ADS) on user systems.
VIPRE monitors and protects against malware threats including zero-day threats, in real time. It leverages multiple detection methods, including heuristics, behavioral analysis and traditional signature based technologies, to analyze malware.
VIPRE includes comprehensive protection against email viruses and phishing scams, with direct support for Outlook, Outlook Express, Windows Mail and any email program that uses POP3 and SMTP.
VIPRE includes a remote device scanner that auto-scans removable drives and files for threats.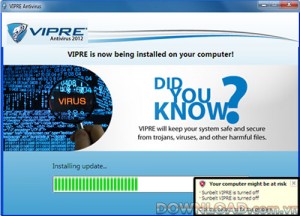 To install the software you will be required to have an email address and a connection to the internet that will be used to download and install the software. This is also how you will get your license key that is needed during the installation. There is nothing else that will be required for the installation, it is that simple.
I highly recommend the VIPRE Antivirus software that can be purchased at vipreantivirus.com or if you are still unsure you can try it risk free by downloading and installing their trial version. This can be upgraded to a full version if you decide you like it. Now you can protect your computer and keep the speed of your computer running in the fastest and safest condition without the risk of viruses. I hope you will take the time to visit vipreantivirus.com for more information and your chance to try the VIPRE Antivirus Software risk free today. You can also follow the link below for more information
http://www.facebook.com/GFIVIPREAntivirus
.