This is a Sponsored post written by me on behalf of
VISIT FLORIDA
for
SocialSpark
. All opinions are 100% mine.
Most people think of Orlando's theme park when they think about a vacation in Florida. But the sunshine state offers so much more. Right now you could take advantage of this great
Florida's Three for Free Giveaway
and get not only one, but three free family vacation this summer.
For the grand prize winner you will get to choose from twelve different vacation locations, which will include your choice of three vacations spots. There will also be nine other winners that get a chance to choose one of the vacations for their prize. This
Florida's Three for Free Giveaway
just seems too good to be true.
Here is a list of places that if you are the winner you will get to choose from:
Swimming with manatees
Plantation on Crystal River
Tennis Lovers Gourmet Getaway
Natural Florida
Family Adventure
Space Cowboy
Trainer for a Day
The Breakers Luxury Dream Vacation
Ultimate Spa-cation
Tee time for two
Classic Family Beach Week
Step into the Past
Florida Keys Fishing
I love animals and definitely want to experience the chance to swim with the manatees at the Plantation on Crystal River, sponsored by Plantation on Crystal River. A trip to LEGOLAND and its new Water Park in Central Florida would surely give anyone a good time. This trip is sponsored by Central Florida. And you should never leave Florida without visiting the beaches like the irresistible charm of The Breakers Palm Beach, sponsored by The Breakers Palm Beach.
These are just three of my top choices and I am sure they would make a great vacation for any family. I am sure you will have your own choices and it won't be easy choosing from the list of possible vacations because they are all great tourist hotspots. One thing is certain though, each one of them can give you a great time and a great vacation that you will remember for a lifetime.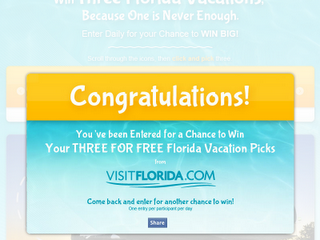 For all the rules and to see how to enter just
VISIT FLORIDA on Facebook
, you should hurry to enter and you can even enter each and every day. This giveaway only last from May 24th through June 30th, 2012. So you still have time to enter for your chance to win. It is so easy to enter and it only took me about 3 minutes, once entered you will see a screen like the one I have shown here. Good luck and hope to see you in Florida.